Heroism and saving lives seems to many of us to be very distant, although each of us is capable of accomplishing small feats of life. To please a child, treat a needy person, help a stranger cross the street or support a friend – all this is so simple and so important at the same time. As well as the understanding that humanity is in the details.
We are sure that every person can make our world a little kinder. And there is no need to go far for evidence of this.
Construction workers washing off a blind woman's shoes after she walk through there site.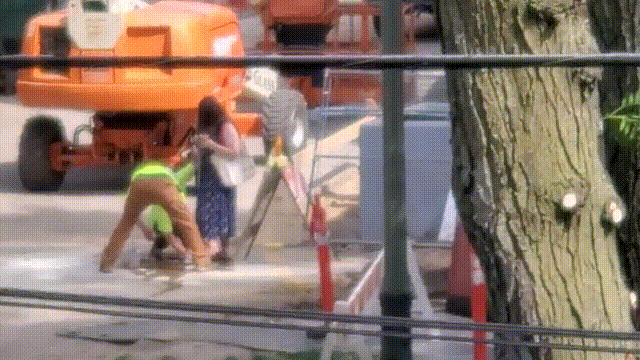 Last Saturday as a club we went and cleaned the beach Scheveningen Netherlands. 165 kg is the result.
There are people who do not give up trying to help others. Even if it's not always possible
My mum (in yellow) wears her fanny pack every time she is out and about. She fills it with dog kibble, treats, poop baggies, and a leash in hopes she'll find any of the missing dogs posted on her neighbourhood Facebook group.
Someone left the dog in the street in the rain and went to the store, but the guard did not look at the weeping dog and found an umbrella
So that this elephant could walk normally again, wildlife advocates made a prosthetic leg
While the puppy was sleeping, this soldier did not move
"I am being treated for cancer. My mother and best friend shaved their heads to support me. "
My office has been working from home for weeks. I had sent out an email asking that anyone who has to drop by the office to feed my fish. I went in today for the first time…someone made a log book.
This guy resuscitated before the ambulance arrived and saved the stranger from certain death
My wife and I were stopping at the store to get dinner, and suddenly I saw an older gentleman laid down in the road in front of the store. Without hesitation,I pulled over and rushed to his side. Another guy was next to him checking his pulse and said he couldn't find it, so we pulled him out of the road, and immediately begin chest compressions. The two of us worked on him for about five minutes or so while a whole bunch of onlookers just stood there.
I moved out of my toxic household a few days ago. I am a senior in High School and I moved in with my friend. My math teacher today gave me this envelope containing this. A ShopRite gift card, "for any food, anything you need"
I found this lil'fella in our bedroom today. She was in shock and breathing heavily.
There are still people who are ready to help not in word but in deed
Sometimes a nice little thing can easily make your day
This man saved our dog. You can see our cat jumping out the window
I found a ridiculous Disney Princess dress for when I go to all of my kindergarten students homes to deliver end of year gifts
My friend came to visit today because I've been really depressed lately. She made me a drawing, brought pastries so we could have coffee and gave me a bag full of sweets and letters for me to open when I'm sad. She drew and wrote everything herself.
My 90 year old grandpa is sewing the holes my dog made in her favorite toy.
This elephant has lost part of its left leg in a trap, and now people are again teaching it to walk.
Have you ever encountered people whose actions you admired?
Photo by Niyi_M / reddit
Read also